Welcome to Perma Laboratories
Since 1986, we have offered Perma Soft, the Professional Denture Reline Kit that's Now Available over the counter for Denture Wearers in need of a Denture Reliner. Perma Soft denture reline kit has been the go-to reliner for millions of denture wearers over the years and is the denture reline kit you can trust. Not only is it proven safe and effective it is also the longest lasting reline kit on the market today.
We also carry ProSoft Denture Reliner, which is a softer denture liner and works best for those with newly extracted teeth, sore gums or those who like a soft denture reline kit. Its healing properties soothe sore gums while at the same times, keeps your denture secure and in place.
TOLL FREE NUMBER 1-800-988-9194 (US) and Canada 1-866-635-9668
Our products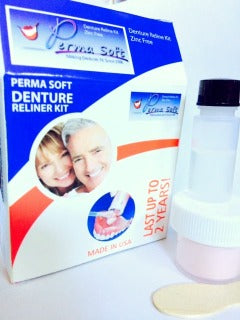 Our Featured Product: PERMA SOFT DENTURE RELINE KIT
Sale price Price $19.00 Regular price Unit price / per
Frequently Asked Quesions
Click here to find frequently asked questions regarding our soft denture reline kits and repair kits.
Perma Soft Denture Reline Kit Voted #1 on Denture Reline Kits Review Sites
Denture Reline Kit | Video
Testimonial
Dear Mick, This morning I used your reline product as it was time for this to be done after a year of wearing a new denture. I had been given prices for this procedure of anywhere from 278.00 to 350.00 which is tough in todays economy. The product was easy to apply and so far it has made such a difference. Cant believe how great it is. Does the recliner have a shelf life? I would like to order a couple more for the closet but hesitate if there is a time when it wont be able to be used. Again a great great product. Thanks


Testimonial
Hi Mick, After we got back from vacation, it had arrived and yesterday, I put it in following the instructions. I must say, ITS GREAT!!!! Your kit has it all over "denture rite". I am going to order another kit just to have in case. Thanks I just want to send an email and thank you! This is the best thing I have ever bought in my life. Instant relief from the pain the dentures were causing me. I will recommend you product to every one. Thank you.


Testimonial
Order arrived today, and I immediately put it to use when I came home. Since Denturite liner never lasted more than a week, even a month is still a big savings to me. The prospect of having the liner work even a few months is more than enough for me to call your product worth it.
Testimonial
Hi Mick, thanks for processing my order. I used your liner 2-3 years ago with super results! I do have a question, what can I use to remove the old liner, or can I just apply another layer over the old? Answer: yes apply the new liner over top of the old, it is mostly worn out by now anyway and the new liner will stick to it great. Thanks for your advice!
Testimonial
Hi Mick, I just wanted to say "Thank You" for a great product at an affordable price! I've been wearing dentures for almost 50 years and this is the first time that a reline has ever been easy and right the first try. Thank you very much,
Available on These Marketplaces
Why Perma Laboratories?
We're Registered & Ready to Help You with Your Denture Needs.
ProSoft Denture Reline Kit
ProSoft is our newer product, since 2012. For the past 10 years, ProSoft has been providing comfort and stability for those with loose, irriatating dentures. To learn more about ProSoft denture reliner, click here.